Camera-mounted drones put to use in the Port Hills
Date: 13 October 2014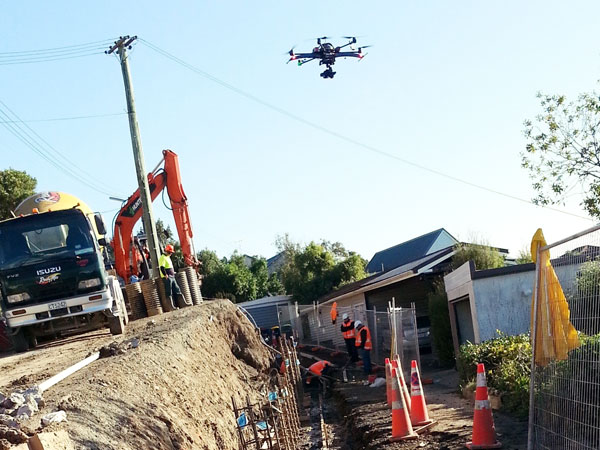 As well as trenches and pipes, SCIRT crews have also been repairing retaining walls around the Port Hills – and a small publicly-owned one on Mt Pleasant was recently completed with the assistance of some 'big boys' toys'.

WEB EXCLUSIVE

Downer engineer Harry Brand says that, while the SCIRT crews on the worksite on Seamount Terrace, high up on Mt Pleasant in the Port Hills, enjoyed daily sea and estuary views and the most spectacular sunrises, they also appreciated some help from the higher-tech side of site assessment – camera-mounted drones.

Work to repair the retaining wall started at the end of April and included removing the failed wall and constructing a new wall with piles and concrete. The new retaining wall was designed to increase resilience, and as such is aesthetically and structurally different to the original.

The work meant a full-width road closure of the narrow Seamount Terrace, which runs across the hill between Rangatira Terrace and Mt Pleasant Road. Access to the front of the wall was very difficult. To accurately record the work, Downer's subcontractor engaged Cobi Digital Productions to safely capture images that would otherwise be difficult to film.

Inaccessible sites

Cobi Digital Productions specialises in aerial filming and is based in Christchurch. The team are currently working with CERA and SCIRT to capture footage of cliff-top houses, cliffs and retaining walls that are not safely accessible. This footage is then used by engineers for assessment purposes.

"Cobi Digital Productions staff carefully control the drone and where it films," Harry explains. "One operator manages the controls, while the other watches what the camera is picking up on the retaining wall site so the drone can be redirected to any areas needing closer assessment."

With the failed retaining wall removed and all of the machinery needed to get the new one built available onsite, Seamount Terrace was closed to through-traffic.

The new wall was finished at the end of August.
Credit: Construction News